As part of the uptick in social commerce that's set to reach $1.2 trillion by 2025, Instagram marketing's reach has grown by 20% in the last year. And this is outpacing Facebook by some margin.
With features that are often complex to navigate, marketers often seek help from Instagram marketing companies to achieve their goals. But which companies are the best or most appropriate?
To answer this, we've created a helpful guide. In it, we'll share a list of the best Instagram marketing companies and the different ways they can help.
First off, let's dig into what Instagram marketing is and the various options for marketing your app.
What is Instagram marketing?
Instagram launched in 2010 as a social media photo-sharing platform.
Today, Instagram marketing is a well-oiled method for success in e-commerce and other business growth. By sharing photos and videos, businesses can attract likes, followers and website click-throughs. And since Instagram Stories attracts 500 million daily active users, it's an attractive proposition for most marketers.  
Meta took ownership in 2012 before Insta launched its business tools in 2016. And since then, it's grown from a photo-sharing app to a social commerce powerhouse that's home to over 200 million marketers. 
Marketing efforts are often targeted at the 25-34 age demographic. And that's no surprise since this age group makes up a third of Instagram's overall audience.
Instagram age demographics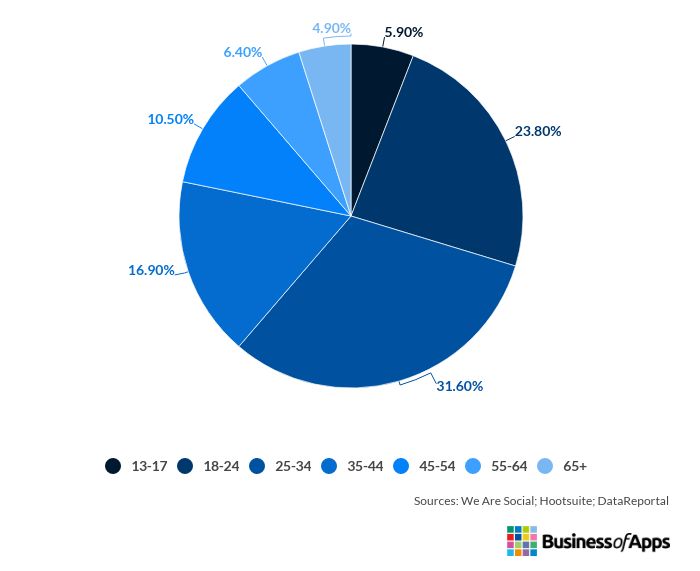 Why app companies use Instagram marketing
There are many reasons why Instagram marketing is so popular: 
Over 2 billion MAUs:

Meta is a little secretive about the total number of Monthly App Users it has on Insta. But some insiders suggest there are now around

2 billion.

 

Broad usage:

70% of young US adults

 and around 40% of those over 30 say they use Instagram
Good engagement rates:

Instagram now garners an

average engagement rate of 0.67

. And this is higher than Facebook and Twitter. 

Increased retention:

Instagram Stories can benefit retention. For example, stats show that brands who post up to 5 Instagram Stories per day can gain a

70% retention rate

.

High download rates: Instagram achieved 545 million global downloads in 2021, making it the second most downloaded app in the world.

 
| | |
| --- | --- |
| App | Downloads 2021 |
| TikTok | 656 million |
| Instagram | 545 million |
| Facebook | 416 million |
| WhatsApp | 395 million |
| Telegram | 329 million |
| Snapchat | 327 million |
| Zoom | 300 million |
| Facebook Messenger | 268 million |
| CapCut | 255 million |
| Spotify | 203 million |
Source: Apptopia
How to market on Instagram
Marketing on Instagram is all about businesses connecting with communities and consumers. But to be successful, marketers must be mindful of the need for authenticity, trust and of understanding the type of customers they want to attract. 
As part of an Instagram marketing strategy, it's important to focus on metrics such as impressions, page likes, followers, or website visits.
But the real power behind Instagram lies in influencer marketing.
Almost 90% of survey respondents said Instagram Posts were the most important for influencer engagement. And its become the number 1 platform for influencers around the world. 
Social media channels voted most important for influencer marketing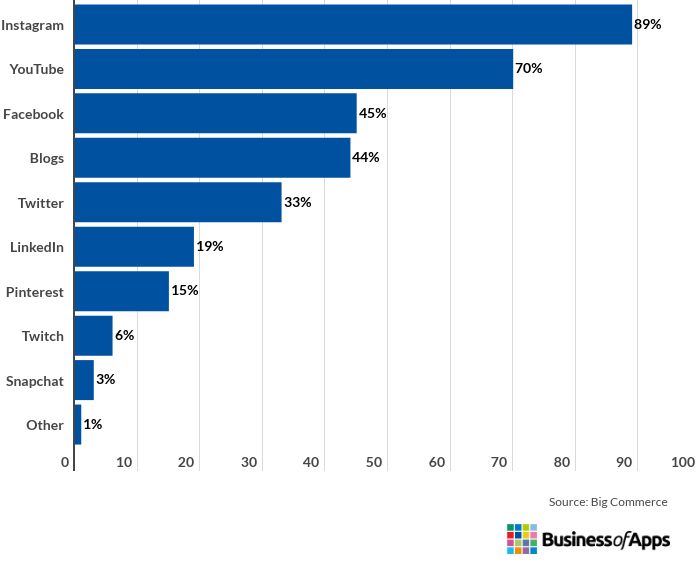 Instagram relies on the power of visual media to create communities and engage audiences. And Instagram Feed is the perfect opportunity for brands to promote their products or services using photos and visual imagery.
In fact, more than 60% of the feed consists of photos. And this far exceeds the use of video or other media.   
Instagram Stories
96% of brands use Instagram Stories to reach consumers, which makes Stories one of the most popular features for marketers. 
Statistics also show that 50% of Instagram users said they visited a brand's website to buy something after they'd watched a video about it on Instagram Stories. 
Instagram Reels
Meta introduced the Reels feature to Instagram in 2020, after recognising their audiences' appetite for shorter videos. 
Offering a short burst of video content to rival TikTok and Snapchat, Reels has driven massive growth for Instagram in India. There, influencers like Naveen Singh aka BihariLadka have seen followers increase to 1.4 million since using Reels as a feature.
The beauty of Reels is that it allows marketers to run 60-second shareable ads. And these are perfect for amplifying a brand and getting influencers in front of audiences. And with the success they've seen on Instagram, Meta also launched Reels on Facebook. 
Instagram Live and Live Rooms
Instagram Live lets you promote seamless omnichannel experiences. And, by breaking down barriers between users and businesses–and affiliates and influencers–Instagram Live enables brands to build authority in their vertical.
Millions of people are watching Instagram Live every day. Statista revealed Instagram to be the second most popular platform for live streaming among US-based 18-34-year-olds in 2021.
Most popular platforms among US 18-34-year-olds for live streaming

Plus, a new Live Rooms feature means up to three guests can join a live stream. And this has expanded the potential for face-to-face connections while opening the doors to include affiliates and influencers in live broadcasts.  
Top Instagram marketing companies
Types of Instagram marketing companies
So which kind of marketing companies help app owners to reach their goals?
Meta Business Partners
Meta Business Partners have earned privileges on Instagram by demonstrating high-quality approaches to agency marketing.  
They often work across Facebook and Instagram and gain their status by meeting strict criteria. Once they're awarded status, they're listed in an online directory and support companies by partnering up in a range of ways: 
Campaign management partners:

Manage, scale and optimise campaigns. Develop campaign creatives and review analytics.  
Community management partners: Help to manage Instagram communities by promoting conversations and reviewing pages.
Creative platform partners: Content creators can help to produce and curate images and videos to optimise visual presence. 
Feed platform partners: Support businesses to develop product catalogues for shopping on Instagram.
Measurement partners: Help with tracking performance across mobile app campaigns.
Conversion data partners: Support improvements in ad campaigns, including offline and online activity.
Instagram marketing agencies
Some Instagram marketing agencies have Meta Business Partner status. But even if they don't, companies can still access their full-service approach to digital marketing. Some agencies offer a multi-platform approach by including Facebook marketing, Snapchat or other platforms too. And their strategies may include:
Instagram influencer marketing:

Marketing agencies can offer access to influencers and achieve

millions of impressions for advertisers they partner with.
Audience identification:

By honing in on the right persona for your brand, many Instagram marketing agencies can improve brand awareness. 
Customised campaigns: Many marketing agencies take a strategic approach to ads to drive success. For example, multi-channel approaches can help to get more top-of-funnel consumers and increase conversion rates.
Specialist Instagram marketing companies
Often, a full-service consultative approach may not be as beneficial as a more targeted one. And this is where more specialist marketing companies can help:
Instagram Influencer marketing agencies: Several agencies have recognised the range and abundance of influencers and amassed huge networks to support social commerce campaigns.
Photography services: Agencies that carry out photography as part of their service suite can boost content-building strategies and give e-commerce brands a 'wow' factor.
Instagram marketing platforms
Some companies may find it beneficial to direct their marketing efforts using a tech platform. And such platforms can manage a considerable range of aspects of Instagram marketing: 
Engagement monitoring: Monitoring conversations or assessing relevant keywords is easier with the right tools, which will help to refine campaigns and target audiences.
CMS tools: Bespoke CMS tools can track incentives like coupons. But they also support content scheduling, content repurposing and leveraging of UGC content.
CRM tools: CRM tools make it easier to create automated workflows and feed into customer journeys by integrating social media accounts with existing e-mail marketing platforms.
How much do Instagram Ads cost?
The cost of an Instagram post varies. And since influencer marketing has become an intrinsic part of Instagram marketing, it has an impact on ROAS.
According to eMarketer, ad spending is growing faster for Instagram Stories than for Instagram Feed. As a result, ad revenues from Stories could reach $20bn by 2023.
And while Facebook remains the world's most popular social commerce site, Instagram tends to achieve higher engagement rates. And it's for this reason ad costs are higher on Instagram than on Facebook.
As part of their Instagram marketing strategy, marketers should consider the potential ROAS of using influencer marketing. The average CPC on Insta ranges between $0.40 and $0.70. And this is calculated based on total clicks, likes, shares and comments. Those with a destination URL will be higher at around $0.50 to $0.95.
Instagram Ad rate sheet for posts in 2022
| | |
| --- | --- |
| Type of Instagram Ads | Rate |
| CPC – Cost Per Click | $0.40 – $0.70 |
| CPE – Cost Per Engagement | $0.01 – $0.05 |
| CPM – Cost Per 1,000 Views | $2.50 – $3.50 |
| CPA – Average Cost Per Action | $3.56 |
| CPI – Average Cost Per Install | $4.36 |
To gain an uplift in sales, most online retailers need to find influencers to promote their brands when working with Insta. But influencer marketing costs will vary based on the type of influencers a brand engages with:
Instagram rate sheet for influencer posts in 2022
| | |
| --- | --- |
| Type of Influencers | Rate |
| Nano (1-10k followers) | $10-100 |
| Micro (10-100k followers) | $100-500 |
| Mid (100-500k followers) | $500-$5k |
| Macro (500k-1m followers) | $5-$10k |
| Mega (1m+ followers) | $10k+ |
Source: AndrewMcCarty.com
Why choose an Instagram marketing company over Instagram Ads Manager?
Some businesses may prefer to take a test-and-learn approach to Instagram marketing. This may involve running content-driven campaigns to test the waters on their brand before they engage with an Instagram marketing agency. 
Either way, App owners must ensure they know their target audience. So whether that's Gen Z or Gen X, putting the consumer in the middle of marketing plans will aid in revealing the best marketing strategies and channels to use. And they should weigh up the pros and cons before engaging in any activity: 
Benefits of partnering with an Instagram marketing company
Embracing Influencer marketing: Businesses that choose to partner with agencies or platforms may gain access to huge networks of influencers.
Content creation: While Instagram can offer ways to connect and collaborate with content creators, Instagram companies may be better at helping to create and schedule appropriate content.
Omnichannel campaigns: Instagram marketing companies can track, analyse and report back on campaign performance. And this may offer insights that feed a cycle of continuous improvement and strategy.
Boosting interactions: Instagram marketing companies can help to increase interactions like poll stickers. Because, when added to Instagram Stories ads, poll stickers can keep audiences engaged for three times longer.
Optimisation: Platforms and agencies enable app firms to make necessary adjustments to boost KPIs and achieve campaign metrics.
Benefits of using Instagram Ads Manager
Building communities: Going direct to Instagram may give businesses more control when fostering support from target audiences.
Lower costs: SMBs may not have such ample budgets to engage with Instagram marketing companies. But they're likely to need their help to get to higher levels of growth.
Better management: Instagram Ads may be beneficial for SMB's starting out or dipping their toes into social media marketing.
Partner with the best Instagram marketing companies
So there you have it – our guide to Instagram marketing. And with such a complex landscape to market to, it's worth considering the benefits of partnering with a third party. Particularly if you're looking to create omnichannel e-commerce experiences that need a boost from influencer marketing.
We'll leave you now with our complete list of the best companies to work with.
List of the top Instagram marketing companies
Influencer Marketing Intelligence & Analytics
| Founded | Employees | | | |
| --- | --- | --- | --- | --- |
| 2017 | 51 - 100 | | | |
BuzzGuru is an all-in-one influencer marketing platform for brands and agencies to perform influencer marketing campaigns from A to Z on YouTube, Instagram, TikTok, and Twitch. A collection of tools helps to get the most accurate preliminary research and analysis; plan, run and execute ad campaigns, analyze the results and get the highest ROI from influencer marketing efforts.
Learn more about BuzzGuru
Drive Higher Mobile R.O.I.
Bamboo is a mobile advertising agency, founded in San Francisco, US in 2014. It specializes on mobile campaign management, mobile growth strategy, creative strategy and production, advertising iteration service. The agency ran paid ad campaigns on top social media networks to acquire mobile app users for leading brands like Dropbox, Hotel Tonight, Peloton, Microsoft and others.
Services: Media Strategy, Campaign Management, Creative Services For Paid Social, Paid Search and Mobile Ad Channels.
Offices: San Francisco, US
Tagline: "Meet the extension of your in-house growth team"
Learn more about Bamboo