Storytelling in real-time, in any location, via an app, lies at the heart of Snapchat. And it's the younger generation's use of the platform that makes Snapchat marketing attractive to app owners. 80% of US teens are using Snapchat once a month, while a similar percentage regularly engage with their favorite brands using the platform.
For better or worse, Snapchat is known for innovative and experimental ideas. And many of these–specifically Stories–have been adopted by rivals like Instagram. But when trends like AR lenses are encouraging young people to buy from brands, app businesses may want to align with Snapchat marketing companies to gain traction. 
And that's why we've prepared this guide – to support you with weighing up the benefits of working with Snapchat marketing companies. So read on for more information and our list of the best Snapchat marketing companies.
What is Snapchat marketing?
Successful Snapchat marketing relies on brands who make genuine connections with audiences, in real-time. And since it launched in 2011 (initially as Picaboo as an iOS only app), Snapchat's content has been based on a little and often approach. In other words, content such as messages and posts only remain a short time before they're deleted. And with a shorter life expectancy on content, the result is higher traffic and more activity.
Today, with almost 40% of the user-base made up of 18-24-year-olds and over 20% aged 13 to 17, Snapchat continues to offer an intimate level of direct messaging, and photo and video sharing that keeps Gen Z audiences engaged.
Snapchat users by age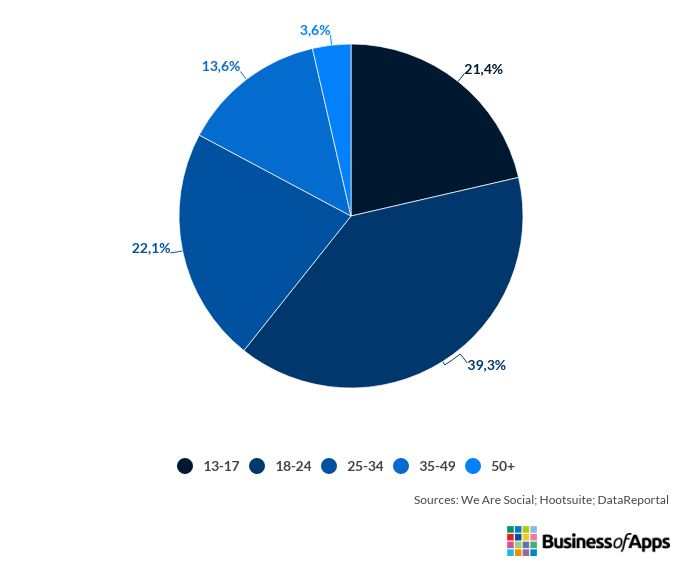 Why create a Snapchat marketing strategy?
Snapchat can be overlooked in social commerce marketing strategies. And there may be reasons for this, such as larger audiences on Facebook and Instagram. But despite being outranked for app downloads by Meta's bigger boys, Snapchat sees year-on-year growth in daily active users.
Snapchat daily active users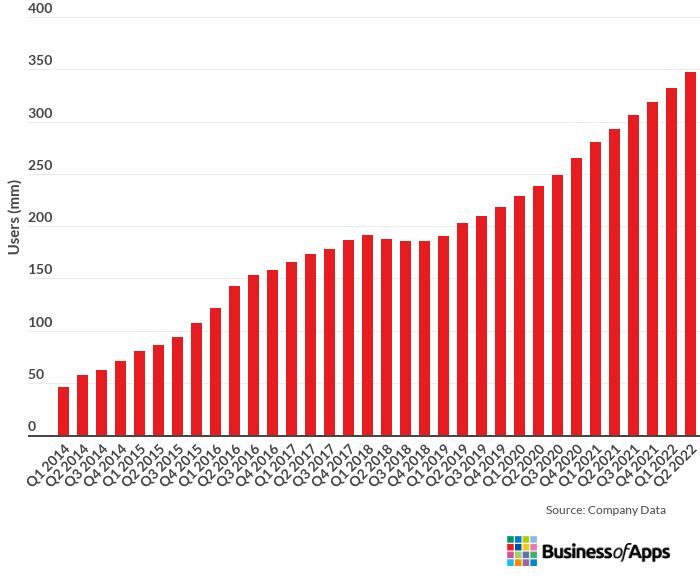 Some of the best reasons to create a Snapchat marketing strategy include:
Snapchat users by country 
| | |
| --- | --- |
| Country | Users |
| United States | 108 million |
| India | 74.3 million |
| France | 24.5 million |
| United Kingdom | 21.1 million |
| Saudi Arabia | 19.6 million |
| Mexico | 17.9 million |
| Germany | 15.3 million |
| Philippines | 12.7 million |
| Brazil | 11.9 million |
Note: Values as of January 2021
How to market on Snapchat
With its mobile-first audience, app companies have a huge advantage in marketing on Snapchat. Statistics show over a third of Snapchat users or "Snapchatters" download up to 5 apps every week. So this translates to higher download rates and lower CPI rates. 
Certainly, this was the case for gaming developers who achieved a 25% lower CPI during their Snapchat campaigns.
So while Snapchat began as a photo and message-sharing app, it boasts a wide range of other time-limited ad content. And since its demographic is made up of more women than men, and its ephemeral ads last no longer than 6 seconds, marketers should focus on producing high-volume content that reaches these demographics. 
Snapchat gender demographics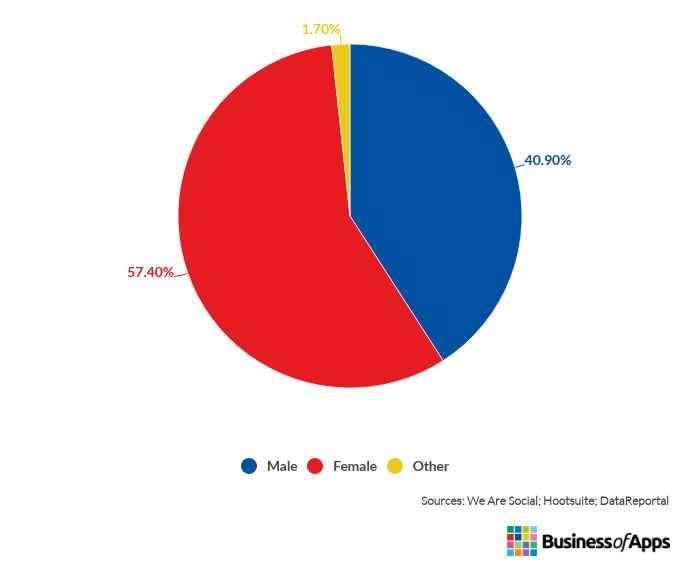 Some of the ways that "Snapchatters" use the platform include:
Snap Chat:

Users make video calls, and chat one-to-one or in groups. Conversations disappear in 24 hours.

Snapchat Stories:

As cloned by Facebook and Instagram, Snapchat originated the

'Stories' feature

. And like many other aspects of the app, Stories go live for 24 hours and then disappear.

Snapchat Lenses:

Lenses use next-level augmented reality that can 'wow' audiences.

Interactive Filters: Filters allow for easy personalization.
Sponsored Snapchat Ads
Snap Ads are the original advertising format on Snapchat. And as full-screen ads, they're shown in-between Stories for no more than 10 seconds. Most often they're videos, gifs or photos and sometimes include a swipe-up option to divert viewers to a branded landing page. 
Specific ways to run Snap Ads include: 
Top Snap Ads: Displays a single piece of content at the top of a feed. A short snippet that's ideal for promoting brand awareness or one-off promotions.
Web View Ads: Web View Ads allow viewers to gain a similar visual experience but also click through to a website.
App Install Ads: Like Top Snap Ads but these include a 'swipe-up' feature that takes users to a landing page to download an app.
Deep Link Ads: Deep Link Ads get people back into an app after they've left. Sometimes they include a link in the ad creative. Plus, deep linking can streamline experiences and increase levels of app engagement.
Commercial Video Ads: It's possible to create long-form video ads of up to three minutes on Snapchat as a Standard Commercial or Extended Play ad. And these will sit behind a 3-6 second non-skippable teaser ad.
Collection Ads: Collection Ads showcase product catalogues and are perfect for online retailers.
Dynamic Ads: These offer a more personalised shopping experience and they're increasing ROAS by over 50%.
Top Snapchat Marketing Companies
Snapchat Discover Ads/Story Ads
Snapchat Discover is the 'feed' where daily stories get published. It's also the place where advertisers showcase their brand using Story Ads. Marketers can show their ads on 'tiles' alongside other content in the Discover section.
Advertising this way has led to 70% lower CPA rates for app companies. 
Content in the Discover feed includes Friends Stories, Snapchat Stories ("Our Stories"), Publisher Stories and Shows. Businesses must first sign up to become a publisher of content before they're able to access Snapchat Discover.
Sponsored Geofilters
A sponsored Geofilter is one of the best ways to promote brand loyalty among customers. 
'Geo' is a reference to their availability within a certain geographical area. And this makes them great for festivals, conferences, or building customer loyalty in a local area. In essence, they promote UGC by offering branded templates for users to capture their own moments.
Geofilters also help brands to market fast at low prices.
For example, cheap Geofilters offering discounts can lead to as many as 20,000 impressions and 12% conversion rates.  
AR Lenses
The core of the Snapchat experience lies in augmented reality. And by overlaying images or animations onto photos and videos, AR Lenses create exciting virtual worlds. 
More than 70% of Snapchat users engage with AR every day. And stats show that branded AR experiences encourage higher levels of product awareness. 
Snapchat AR usage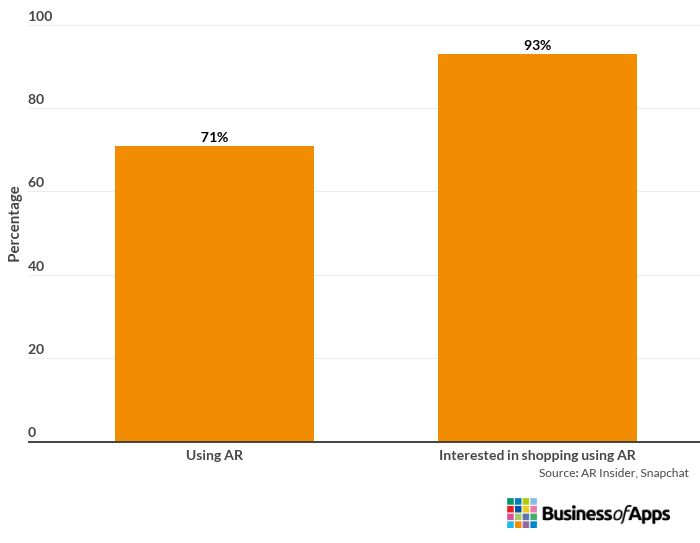 Types of Snapchat marketing companies
Choosing the best Snapchat marketing companies to work with depends on the aims of a campaign. And, like Instagram, Snapchat has considerable popularity among online influencers.
Snapchatters watch around 10 million videos a day, so high-volume and creative content is key to achieving results.  Plus, the good news is that app companies have several options to consider:
Snapchat Partner Programme
Snapchat's Partner Programme offers a list of vetted agencies to enhance and support ad campaigns. Snapchat Partners come under three sub-categories: 
Strategic Partners: Develop specialised technology and offer expert-level guidance. Marketers should see improvements in campaign performance.
Certified Partners: Offer advertising expertise and tech solutions. They can improve ad execution, optimisation, and analysis.
Audience Match Partners: Partners in this tier help marketers make better use of audience segmentation. They show consistent good use of audience data and adherence to data collection rules.
Creative Partners (Closed Beta): Can test Snapchat ad creative and give regular training on best practices. Plus, they need a 90% or higher ad review approval rate to become a partner.
Snapchat advertising agencies
Snapchat ad agencies provide a full suite of tools and services to benefit Snapchat marketing campaigns. And they can target metrics like conversions, lead gen or app installs. 
Some may have Snapchat Partner status. And the types of services they offer include:
Strategy and planning:

Agencies can help to define advertising goals and plan appropriate ad activity

.

 

Audience building:

With effective audience targeting strategies, app owners can increase engagement, drive brand recognition and uplift sales.

 
Full-funnel campaigns:

From awareness to conversion, many Snapchat ad agencies help app brands develop new follower bases and achieve high ROAS.  

Creative development:

Many gaming apps use AR technology via Snapchat Lenses to run teaser campaigns. And these can often generate millions of views from new audiences. 

Optimisation and scaling: The Audience Insights feature lets agencies create optimised content. Such insights can support better targeting and encourage growth.
Specialist Snapchat marketing companies
Mobile-first agencies: Snapchat advertisers may leverage higher app install rates and better retention if they take a mobile-first strategy.
Influencer marketing agencies: Despite contrary reports, influencer marketing still has alot of sway on Snapchat. And many agencies can help withing finding the right influencers to grow engagement.
Snapchat marketing platforms
Several marketing platforms are approved Snap partners. And they offer a host of tools to support Snapchat advertising: 
Creative automation tools: Creative templates allow marketers to plug in product catalogues and create automated Snapchat Ads offers.
Snap publisher: Get help with publishing and updating Snapchat ads in real-time. Use branding and tools to optimise campaigns and achieve targets.
Analytics, reporting and benchmarking: Bespoke platform dashboards can determine target audiences, analyse competitors, optimise campaigns and report on campaign metrics.
CRM tools: CRM tools make it easier to create automated workflows. They can also integrate with other platforms to enhance customer journeys and support a mobile-first strategy.
Influencer and affiliate management: Many platforms include management tools to review influencer and affiliate performance.
Why choose a Snapchat marketing company over Snapchat Ads manager?
Snapchat offers a captive audience of young people. Over 50% of its audience falls into the 'Gen Z' zone – also known as 'Zoomers'. Plus, app marketers who want to reach this demographic have a strong chance of boosting app installs since Snapchat is mobile-only.
But like those who also want to use Instagram and Facebook for marketing, access to Snapchat is based on a bidding system. It charges for every 1,000 impressions using a goal-based bidding system. And this approach restricts making an accurate forecast of costs.
Despite this, estimations suggest in 2021 the CPA (cost per action) was around $5.53 (£4.12) and the eCPSU (cost per swipe up) was $0.57 (£0.44).
So why would it make sense to partner with a Snapchat marketing agency or platform?
Benefits of partnering with a Snapchat marketing company
Content creation: Zoomers often seek out values-based, community-enhancing brands that make them feel good and marketing companies can help to qualify an approach.
Data analysis and campaign monitoring: With so many types of ads to test and learn from, monitoring their impact may be easier using bespoke tools or resources.
Enhanced Customer Experience (CX): On average, businesses that offer superior customer experience levels grow revenues 5x faster. Platforms can offer AI-driven tools to support offline and online monitoring and optimisation.
Influencer marketing: Engaging with influencers may be easier via a Snapchat marketing company.
Automation: Automated workflows can reduce resources and reveal insights. And this helps with managing ongoing improvements.
Benefits of Snapchat Ads Manager
Test and learn: Snapchat Ads Manager lets businesses start advertising on low budgets. And this may help beginners to test and learn from their experiences.
Lower costs: SMBs may find a cost-saving to run advertising themselves. But they're unlikely to match Gen Z's expectations without a seamless omnichannel strategy.
Audience targetting: Snapchat Ads Manager is easy to use, plus you can use their Trends platform for audience insights. But e-commerce, gaming and local businesses may find it takes longer to get results.
Partner with the top Snapchat marketing companies
Snapchat is one of the original social media apps and retains its ownership under Snap Inc. This outlier status may have enabled it to be more agile and helped it to develop new ways to increase engagement. The fast-paced and ephemeral nature of shared content means marketers must stay ahead of the curve and create the right strategy for success.
To help you do this, here's our list of the best Snapchat marketing companies to review.
List of the top Snapchat marketing companies