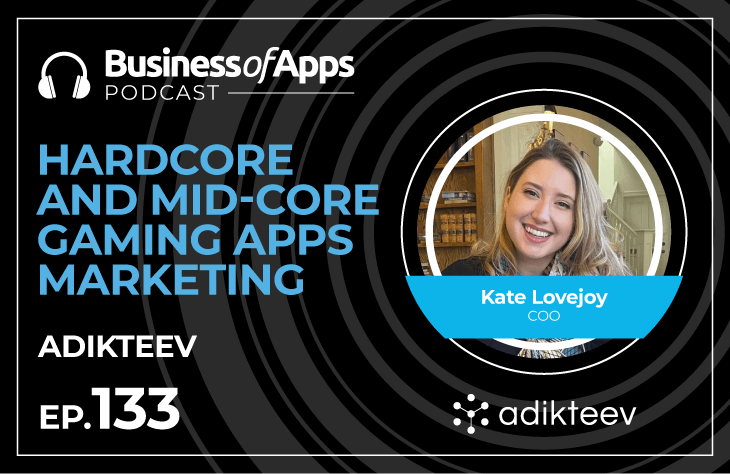 This is the first episode we record in 2023, so Happy New Year everybody!
It was another turbulent one, to put it mildly, and so let's talk about something light – like games.
Specifically mobile games.
To be very specific – gaming apps marketing.
People turn to games during holidays as one of the best ways to give their minds a bit of a break and in fact, this is what they tend to do when they commute, sit in an airport and wait for their flight, and on and on.
But given the time constraints and the typical mindset people have in those situations, it's usually about casual gaming. In a contract, today we want to talk with Kate about marketing for hardcore and mid-core gaming apps, which time-wise have different flavors.
Today's Topics Include:
Kate spent the last decade between a global media agency, online audio & video media, mobile advertising, and top app re-engagement platform
Hardcore and mid-core mobile games definition
Audience segmentation
Monetization strategy
Hardcore and mid-core KPIs to focus on
Takeaways
Android or iOS? iOS
Kate's  first mobile phone
Leaving her smartphone at home, what features would Kate miss most?
What features Kate would like to see added to her smartphone?
Links and Resources:
Quotes from Kate Lovejoy:
"Retargeting can help throughout the funnel but really what you want to focus on, primarily and first off, is on targeting your payers."
"Absolutely and what's who we recommend to go after.  The first strategy I was describing is about creating whales – getting more users to exhibit whale behavior."
"I think what's really most important, when you start out with re-targeting is your foundation. So, who you are targeting, and how you're going to measure the results."
Follow the Business Of Apps podcast