Smartlink by Clickdealer is a perfect solution for publishes who are looking for the following options while running traffic:
All the automation needed to guide each click to an appropriate offer.
All the offers required to cover all geos and devices.
All the algorithms built to put together the most optimal funnels eCPM-wise.
All the in-house designed ads needed to find the best performing combo.
All the time in the world to yourself as the smartlink runs your campaigns for you.
When the flow of traffic gets too intense to manage, the smart thing is to delegate it to bots designed to handle this exact issue. Check out ClickDealer SmartLink and find out the rest of the amazing things it can do for a busy marketer.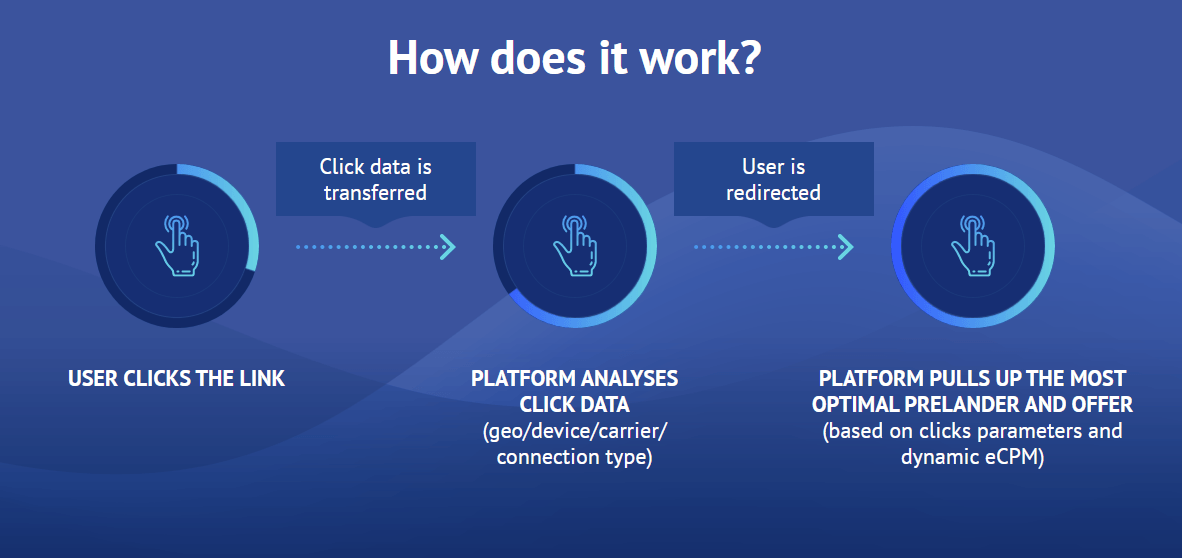 Benefits
INTERNALLY TESTED AND CONSTANTLY UPDATED CREATIVES
Our smartlink optimizes your campaign down to an individual prelander's performance, and we supply only working creatives. You don't need to spend resources testing them– we test them for you.
MASSIVE DATABASE OF EXCLUSIVE AND DIRECT OFFERS
ClickDealer has worked in the dating vertical for almost 7 years, and we have partnerships to show for it. Competitive rates and conditions guaranteed.
INDIVIDUAL DEALS
Smartlink payouts are no longer fixed! If your traffic works well for the advertiser – offer conditions will reflect the performance of your leads. In addition, the monthly payment threshold can be switched to a weekly payout after traffic quality approval.
DETAILED REAL-TIME STATISTICS
Our smartlink is transparent. You get real-time stats on its network-wide performance, with eCPM breakdowns by geo, connection type, device, and other metrics.
CAREERS
You're just a few steps away from starting your dream job! See our current vacancies here.
Awards
Smartlink Features
100% traffic monetization
Weekly payments
$100 payment threshold
Simple sign up
Fast approve
Fully automated algorithm
Office Location
HEADQUARTERS
Herengracht 124-128,
1015BT Amsterdam
Netherlands
+31 (0) 202404459
Smartlink Data
| | |
| --- | --- |
| Founded: | 2012 |
| Employees: | 51-200 |
| Social Presence: | 10k+ |
| Website Traffic: | 500k+ |
Sources: Company Data, Press Reports, Linkedin, Twitter, Owler, SimilarWeb
Smartlink Info
Latest Tweets from Smartlink: